John 3.22-36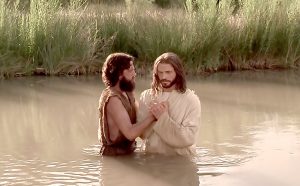 Once the Passover was over and Jesus had finished his conversation with Nicodemus, he and his disciples moved out of Jerusalem into the surrounding Judean countryside. His group were close to John the Witness (Baptist) and both parties were baptizing people. They were located beside a plentiful water supply. In Jesus' case his disciples were doing the baptizing. A Jew and we do not know anything more about him than that, challenged John over his practice of baptizing, we can only presume it was because it did not conform to normal Jewish purification rites. This sparked off questions to John from his own disciples because people were now going to Jesus for baptism. In John's answer to his disciples he came up with a cornerstone of all appropriate Christian ministry, 'He must increase, but I must decrease.' John 3.30
John's heart towards Jesus exemplifies the perfect attitude for Christian ministry. John was delighted that people's focus was now on Jesus. For a more detailed understanding of humility in Christian ministry read 2 Corinthians 4, but this short passage contains bright insightful gems. I was once in a church where a potential split was occurring because another church of the same denomination was starting up and some of the members were wanting to transfer as the new church was more charismatic in character. Our minister spoke to the church and said he welcomed a thriving charismatic church starting in the same area and expressed the hope that both churches would continue to lead people to Christ and grow in all ways. This indeed did happen, but for me it was an example of a Christian leader putting Christ and his 'bride' before his own ministry and God blessed the community with two thriving churches.
John corrected his own disciples with positive teaching because he clearly understood who Jesus was and that his own ministry was to prepare and point people towards Jesus. 'You yourselves bear me witness, that I said, I am not the Christ, but I have been sent before him.' John 3.28 The day after John had baptized Jesus two of his disciples, Andrew and probably John the gospel writer had left John to follow Jesus. This had now become the dominant pattern of behaviour and John was glad. John recognized that his ministry was a gift from God and that he had been able to fulfil it. 'A person cannot receive even one thing unless it is given him from heaven.' John3.27
John used the analogy of a bride, a groom and a best man. The bride is what we now call the church or Jesus' disciples, the groom is Jesus and his role is the best man. As he sees the two wed it is for him a matter of great rejoicing. 'The friend of the bridegroom, who stands and hears him, rejoices greatly at the bridegroom's voice. Therefore this joy of mine is now complete.' John3.29 Witnessing the union of Jesus with his people is the pinnacle of Christian ministry.
John then moves on to the best man speech where he extolls the virtues of the groom. Because Jesus is from heaven itself he alone is able to speak from firsthand knowledge of heavenly things. 'He who comes from heaven is above all. He bears witness to what he has seen and heard, yet no one receives his testimony.' John 3.32 Sadly there are many who do not understand or reject his words but there will be those who receive both his teaching and Jesus for themselves. Where people do accept and act upon his teaching Jesus assures them of his truth through the seal of the gift of the Holy Spirit. John 3.33 The seal seems to work both ways. The believer affirms the truth of God but God secures their faith with the gift of the Holy Spirit. Elsewhere in John's gospel Jesus says, 'Do not work for the food that perishes, but for the food that endures to eternal life, which the Son of Man will give you. For on him God the Father has set his seal.' John 6.27 Paul writes, 'And who has also put his seal on us and given us his Spirit in our hearts as a guarantee.' 2 Corinthians 1.22 The seal of the Holy Spirit acts like the evidence of the signed marriage certificate or the gift of the ring that signifies the contract and bond that holds together Jesus and his bride the church.
All these things are in the gift of the Father through the Son. John 3.34,35 John draws a clear distinction between those who believe in Jesus (the Son) and those who do not. 'Whoever believes in the Son has eternal life, but whoever rejects the Son will not see life, for God's wrath remains on them.' John 3.36 By implication this emphasizes again the importance of Christian ministry that points to Jesus and why he must increase and the minister must decrease.
How do we approach our own ministry?
Do we rejoice each time a person commits their life to Christ?
You must increase youtube – Matt Redman