updated 17th Jan 21
Dick with 'Living in the Last hour' can be found over on our 'sermons page'
*ABC Carol service is still on our Home Page…..
+
BIBLE SOCIETY -ZOOM- BIBLE STUDY COURSE. …next session Wednesday 20th Jan 21……2nd New Testament session  It's not too late to take part–Contact us if you would like to join in..     ( abbotshambaptist@gmail.com)
.. Led by Geoff
---
A.B.C. virtual Carol service.. is very interactive !
---
    Scroll to base of page for more NEWS…   + check out our NEW SHEET page… updated every week with fine detail,
WITH REGRET OUR CHAPEL IS CURRENTLY CLOSED
DUE TO SAFEGUARDING FROM CORONAVIRUS
We will continue to fall in line with government guidelines & keep you posted on this website.
*We do hope that you can find comfort & worship through this site- our 'Sermons' page has many messages & our 'Daily Devotional ' page is designed to help you in your quite times.
---
Message from your Deacons           11th Oct 
Helen, Nick and Pat are working hard behind the scenes picking up all the pieces resulting from Piers moving from the area. Continuing our remit as Deacons we have been meeting regularly continuing to discuss and make decisions on behalf of the Membership of the Chapel. You will no doubt be aware that we have enlisted the help of Geoff Williams and he is kindly producing our weekly newsletter, daily readings and running our Zoom Bible Study on a Wednesday evening. We are of course not exclusive and if you feel able to contribute more to our Chapel life please always feel free to contact us.
Those of you who are Members of the Chapel will be aware that our last Member's Meeting was on the 23rd January 2020, before we were hit with the Covid19 pandemic. After our Deacons meeting this week we decided not to hold any further Member's  meetings until our Annual Meeting in January 2021, however if any Member feels that they would like a virtual  Members meeting before that date we will be happy to arrange this via a Zoom meeting.
We are planning to use Zoom to hold regular monthly Communion Services on line, these will be held on a Wednesday evening at 8.00pm commencing on the 4th November. Geoff will put a link to this in the newsletter.
Nick is working tirelessly putting a weekly sermon on our website, it's been great to see some of our regular preachers, please take the time to enjoy these 10 minute slots, your feedback is always welcome. Find our website Abbotsham Baptist Chapel and follow the links to the Sermons page.
With the help of our legal advisors we are working on achieving our change in status to a CIO and a registered charity, providing this is achieved by the end of the year your Deacons (Trustees) will all have to resign by law and new Trustees appointed, they may decide to stand again and if voted for may continue, however it would be appreciated if, when the time comes, Members would put forward names of folk who would be willing to be considered as Trustees for the future.
Helen, Nick & Pat
(     email us anytime on:  abbotshambaptist@gmail.com    )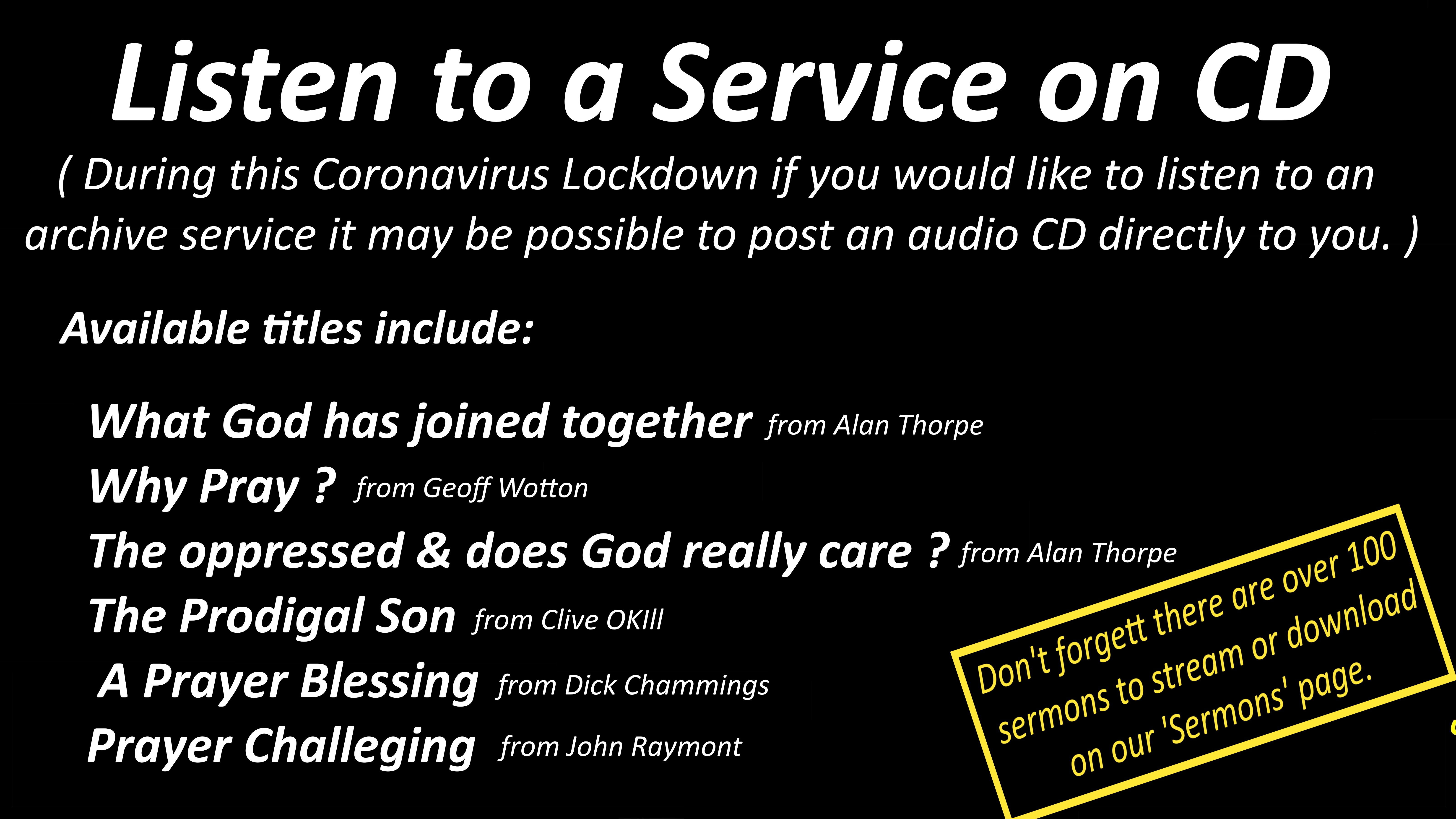 Mid Week Bible Study- Also NOW  SUSPENDED
===CANCELLED—–WATCH THIS  SPACE—–CANCELLED===
—————-
A.B.C. Charities Number= 1191292
---