a n d        P R A Y E R      D I A R Y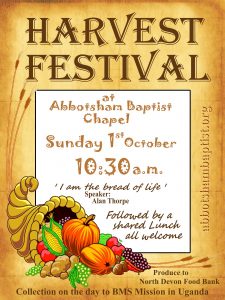 Abbotsham Baptist Sunday Newsletter – 17.09.23
"The one whom God has sent speaks the words of God, for God gives the Spirit without limit" John 3:34
Dear Members and Friends of Abbotsham Baptist Church
Sunday Service – 10.30am
Title – The one who comes from above is above all
Bible reading – John 3: 22-36
A recording of this talk can now be found over on our sermons page.
Harvest Festival and Harvest Lunch – Sunday 1st October in support of the BMS Harvest Appeal and North Devon Food Bank.
It is a wonderful thing to continue the ancient traditional celebration of God's grace in the provision of the harvest. Alan Thorpe will lead our service.
We are asking for volunteers to bring produce and flowers to decorate the church on Friday 29th September. We are also asking for volunteers to help with decorating and displaying the produce. The church will be open from 10.00am to 12 noon.
If you are able to come and can give names to Heather it will help with catering. If you are able to also help with food please see Heather.
Home Group
Everyone is welcome to come to the Home Group which starts again on Tuesday 19 September at 10.30 a.m. It will last about 90 minutes and be followed by a light lunch for those who are able to stay. It will feature some worship songs, discussion and prayer-time. We will meet at Jenny and Barry's. For catering purposes, it would be helpful to know if you can join the lunch.
Prayer letter from the Fawzi Family
We have received a prayer letter from the Fawzi Family. It is fairly long so there will be a copy in the church on Sunday. If anyone would like a copy forwarded please let me know. In brief Debbie is continuing her work with Gloucestershire Action for Refugees and Asylum Seekers. The children are doing well. Ivan is finishing his ministry with Arab World Mission and will be working for Al-Massira Trust 3-4 days a week. Currently his work is in a team developing the second stage of Al-Missira on discipleship, to be used in Muslim majority countries. Ivan is also training for Public Service interpreting. Please see below an extract from their newsletter.
"My prayer is that you would first give thanks to God; for he is truly wonderful. That you would be encouraged and excited as you witness his amazing work and kingdom growing, particularly amongst those from Muslim backgrounds. Finally, for you to pray and seek the LORD regarding how you would continue to partner with me in these exciting times, as we witness the joyful harvest for the Followers of Jesus coming out of Islam.
Your partnership, friendship, prayers, encouragement, insights, support, be it emotional or financial are vital to me and our Fawzi Clan. Thank you again, we never take any of this for granted."
Prayer diary – Week beginning – 17.09.23

"Whoever believes in the Son has eternal life. John 3:36

Day

BMS Mozambique – Mozambique gained independence less than 50 years ago. It's developing rapidly in its cities, while subsistence farming is still the norm in most rural areas. The threat of hurricanes is very real, and the country is still recovering from the damage caused by Cyclone Idai in 2019.

Household of the day

Sunday

BMS Mozambique – Pray for peace in Cabo Delgado Province, where an Islamist group has been killing people since 2017 and many people have been displaced from their homes. Abbotsham Baptist – Pray that we will have a clear vision of who Jesus is.

Imogen

Monday

BMS Mozambique – The new board of the Baptist Convention of Mozambique took up its responsibilities in August. Ask God to give them wisdom and vision, and pray that they will govern with transparency and strong leadership so that believers in their churches will grow in their faith. Abbotsham Baptist – Please pray for the preparations for Harvest Festival that we will consider who we might invite.

Fay

Tuesday

Abbotsham Baptist – Please pray for those in the fellowship who are suffering from long term illness, who are regularly in pain and experiencing worry or grieving. BMS Mozambique – Carlos Jone has been appointed as temporary pastor of the First Baptist Church in Beira following the death of Pastor Mosse. Pray for strength and wisdom as he leads the church while also working with self-help groups and supporting farmers in an agroforestry project in Sussundenga.

Clare

Wednesday

BMS Mozambique – Elections in October will appoint the mayors in many cities. Pray that this process will be peaceful and that all parties will accept the results. Abbotsham Baptist – Please pray that the Spirit will cause people to seek God.

Pat & Larry

Thursday

BMS Mozambique – Lift up a new sewing project for widows and the most marginalised in Beira. Pray that it will provide a sustainable income for those in the greatest need. Abbotsham Baptist – Pray that we will be a prayer filled church.

June

Friday

BMS Mozambique – Association of Mozambican Christian Lawyers provides legal aid and mediation services for vulnerable people in Beira and Maputo. Pray that this work will bring justice to many who would otherwise be unable to access legal services. Abbotsham Baptist – Please pray that we will have a clear vision of Christian outreach.

Linda H

Saturday

BMS Mozambique – BMS worker Jane Edwards supports AMAC in their Beira and Maputo offices. Pray that their legal education work will raise awareness of family, land and labour laws and protect the rights of widows, women and children. Abbotsham Baptist – Please pray for Dave Hopwood as he prepares Sunday's service.

Ann