John 16.25— 17.1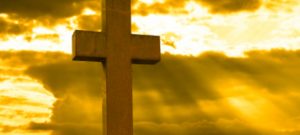 We come now to the concluding section of the long discourse between Jesus and his disciples the evening before his death. It started in the upper room following the last supper. At some point it would appear they had left the room and were walking to the Gethsemane garden as at the conclusion of the discourse Jesus moved into prayer. His last words in the discourse were, 'In the world you will have tribulation. But take heart, I have overcome the world.' v33 The disciples were to face tribulation with immediate effect, they were only minutes from Jesus arrest and Jesus words that, 'they will scatter, each to their own home and leave him alone,' v32 were sadly fulfilled. They had still not yet grasped how Jesus was to overcome the world but they had understood he had come from God. v30 Jesus' questioning of their belief v31 was an indication of how incomplete their understanding and faith in him still was. His crucifixion was going to shake them to the core.
Jesus had just spoken plainly that he was about to leave the world and go to the Father having come from the Father. V28 There was no confusion about what he meant by the Father, he was referring to God. v27 His promise to them was one of a loving intimacy with God the Father which was radically different from the rules and fear governed religion being propounded by the religious leaders seeking to kill him. Their relationship with Jesus had opened up to them a direct communication with God the Father. 'In that day you will ask in my name, and I do not say to you that I will ask the Father on your behalf, for the Father loves you, because you have loved me and have believed I have come from God.' v26-27
Jesus also makes a break in his own style of teaching. Up to now he had extensively used parables and metaphors to speak about himself (e.g. the I am statements) but now their teaching was to be more explicit and direct. v25 He was referring to the period following his resurrection and then to the Holy Spirit's work leading them into all truth following Pentecost. We see this greater direct instructional style in the epistles in the use of extended sequential exposition addressing both doctrine and real life issues. All of this was intended so that believers in Jesus could share in his victory over the world and have peace whatever their tribulation. v33
The important point to grasp is, it his victory not ours. He has already achieved it. By the world he means all those forces ranged against him, evil spiritual forces, the sinful hearts of his enemies and our own sinful desires. His enemies were going to kill him but God was going to raise him from the dead. He would then lead those who believe in him into an eternal relationship with him and victory over sin and death. We are not able to do that for ourselves, only Jesus can do it for us.
When speaking of Jesus' victory over sin and death Paul says, 'But thanks be to God, who gives us the victory through our Lord Jesus Christ.' 1 Corinthians 15.57 We then should go on and live victorious lives. As Paul describes it, 'Therefore, my beloved brothers, be steadfast, immovable, always abounding in the work of the Lord, knowing that in the Lord you labour is not in vain.' 1 Corinthians 15.58
Are you confused about a part of the Bible or Christian teaching? What could you do to gain clarity?
In what ways does Jesus' resurrection victory give you confidence, joy and peace?
To You O Lord I lift up my soul (Psalm 25) Graham Kendrick