John 16.16-24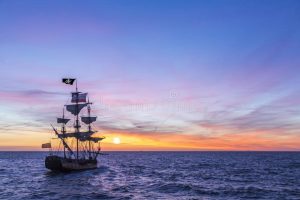 My wife and I were sat in the parish church at her Father's funeral which he had attended for decades and been church warden for many years. The presiding minister had just given the lovely depiction of people standing on the shore waving goodbye with great sadness as a ship crossed the horizon whilst on the other side of the sea there were people cheering and waving their greeting as the ship hove into view. It was the image of the grief of loss and the joy of reception into heaven. When the service ended the young grandchildren were playing in the church and Heather leaned over to me and whispered those are the most important people here. Two images of loss, joy and hope coming together.
Jesus' words, 'A little while, and you will see me no longer, and again a little while, and you will see me,' v16 were not immediately understood by the disciples. They did what so many do when confused and talk amongst themselves without directly asking Jesus for clarification. Jesus, however, realized their confusion made clear to them the process they would go through. Importantly he made clear that this would be in direct contrast to the "world." By the world here Jesus was mainly speaking of his enemies. They would rejoice at his death and following his resurrection be angered and refuse to accept the truth. v20
The disciples were about to be struck by grief, 'Truly, truly, I say to you, you will weep and lament.' v20 The grief though will be like the pain and suffering of giving birth, painful and intense but followed by the joy of new birth. Jesus was using the birth process as a simile of his death and resurrection and it is not meant to apply to all births including those that have tragic outcomes. Whilst Jesus words were directed at the immediate circumstances for his disciples they also convey a wider meaning for all who trust in him.
When believers experience grief, hardship and suffering however extreme, it will pass. There will be resurrection and there will be eternal joy in his presence. Jesus never sugar coated the cost of discipleship but at the same time he went through suffering for us because of his love for us to overcome the world on our behalf. His words to the disciples regarding his appearing to them following his resurrection also apply to his disciples now as we look forward to his return or meeting him in heaven. 'I will see you again, and your hearts will rejoice, and no one will take your joy from you.' v22
Up to this point the disciples were not in the practice of praying to the Father in the name of Jesus. This great privilege was now being opened up to them. v23 Because of what Jesus did on the cross the disciples can now approach the Father in Jesus' name. We should be encouraged to pray in the name of Jesus, that is in his will. We are to pray as Jesus taught and how Jesus himself prayed, that God's will be done. Matt 26.39 As we read the bible and increase our understanding of his will, it aids us in submitting to his will in prayer.
Do we give thanks that Jesus has provided a path for us by his death and resurrection through suffering and death to share in his eternal glory?
Do we ask the Spirit to enable us to understand his will and gladly submit to it?
God Will Make A Way – Don Moen Religious Song