John 15.1
'I am the true vine, and my Father is the gardener.'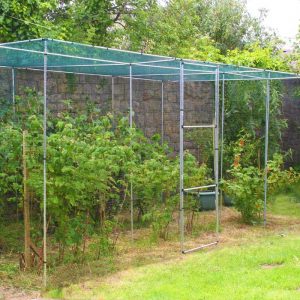 2020 during lockdown saw many people spending more time in the garden, physically connecting with life processes, literally from the ground up. I was one of those and I have always loved growing produce but often because other demands in life have taken me away I frequently missed a crucial time. In five years I had not eaten a ripe gooseberry from my three bushes, the blackbirds have always beaten me to the harvest. Last year I was determined to win the gooseberry wars. I cleared the ground, fed the bushes with copious manure, cut out dead wood, and covered them with a net fruit cage. Following a delicate afternoon of carefully picking fruit around the thorns we froze a bumper harvest and are still enjoying gooseberries through the winter.
To be successful in the kitchen garden one has to spend time learning how to create the right environment for each fruit and vegetable, what to do and when. The excitement of bringing in the first strawberry or bowlful of raspberries surely gives us an insight into the Lord's excitement at seeing a new Christian's life starting to reflect Christ-like changes in their lives. Jesus chose metaphors and allegories from the natural world firstly because his creation speaks of the Creator, secondly because his immediate audience would have had detailed understanding of the agrarian processes and thirdly because they are not limited by culture and history and so are just as powerful an image now two thousand years later.
Jesus powerfully applied the repeated Old Testament image of Israel being God's vine to himself. Israel was chosen to be fruitful but had in large part failed and become dead wood. Psalm 80.8-15 This is the last of Jesus' "I am" sayings. Jesus is now announcing that, "he is the reality of which Israel was but the type." (New Bible Commentary) Jesus himself is the source of fruitfulness and the nature of fruitfulness. If the Christian or the church are the branches they can only produce fruit when attached to the root stock of Jesus himself. Detached from Jesus the Christian and the church simply become fruitless dead wood. However, when connected, grafted into Jesus, the Christian and the Church can produce a bumper harvest.
God the Father is pictured as the gardener tending to the vine. Once again Jesus is evoking a Trinitarian image of the whole Godhead causing his church or disciples to flourish. If the Father is the gardener it would not be unreasonable to imagine the Holy Spirit as the sap bringing strength and goodness to the whole vine.
Are we prepared to pay as much attention to our Christian lives and the life of our church as the good gardener would to his garden?
Do we have periods when we neglect our Christian lives and the life of the church and allow our lives to become fruitless?
Lord of all hopefulness