Psalm 57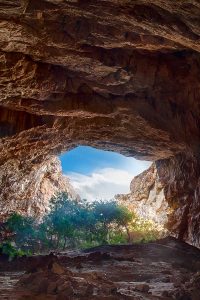 There was a time when caves figured large in David's life. (See the title) Life had not improved much since Psalm 56 when David had escaped from the Philistines in Gath. He fled to the cave of Adullam where his brothers and a general band of discontents joined him, but Saul returned from fighting off another Philistine attack with 3000 of the fittest men, to finally hunt David down, while David and his followers were hiding near the Crags of the Wild Goats. At that point David and some of his men were sheltering at the back of a large cave when Saul entered the cave to relieve himself. Despite urging from his men David refused to seize his chance to kill Saul because he honoured him as the Lord's anointed. Instead he crept up and cut off a piece of Saul's cloak without his knowledge. A trick fit for a pick pocket in Oliver Twist. When Saul left the cave, David called after him from a safe distance, waving the piece of the cloak and demonstrating that he had spared Saul. Saul temporarily repented of his pursuit of David and recognized that David would succeed him as King.
Psalm 57 begins as a lament vv 1-4 and ends in praise. vv 6-11 David has grown in confidence as he shelters under God's wings. v2 It is not that his troubles, even the threat to his life, have gone away but he has seen evidence of the Lord's protection. The threats are real, both physical from the weapons of Saul's army and accusatory from those, 'whose tongues are sharp swords'. v4 It is God who vindicates him v2 and so he gives glory to God in verse 5 and repeats it in the concluding verse 11. 'Be exalted, O God, above the heavens; let your glory be over all the earth.' David bursts in to a song of praise, vv 6-11 which gives God the glory for his salvation.
The theme of giving God the glory and living for God's glory is repeatedly picked up in the New Testament. Jesus said, 'Let your light shine before others, so that they may see your good works and give glory to your Father who is in heaven'. Matthew 5.16 Jesus again linked his disciples lives with God's glory in John 15.8, 'By this my Father is glorified, that you bear much fruit and so prove to be my disciples'. Jesus demonstrated how obedience to the Father brought glory to God and the Father would in turn glorify him. 'I glorify you on earth, having accomplished the work that you gave me to do. And now, Father, glorify me in your presence with the glory that I had with you before the world existed.' John 17.4,5
Later the apostles made clear how disciples of Jesus lives ought to bring glory to God. Peter instructed, 'As each has received a gift, use it to serve one another, as good servants of God's varied grace: whoever speaks, as one who speaks oracles of God; whoever serves, as one who serves by the strength that God supplies – in order that in everything God may be glorified through Jesus Christ. To him belong glory and dominion forever and ever.' 1Peter 4.10,11 Paul made clear that even in the smallest things we do we ought to act in a way that brings glory to God, protecting the faith of the most vulnerable in their faith. In Corinth, meat bought at the market had previously been dedicated in some way by the butchers to a pagan god. Paul said if he eats in thankfulness to God, then his conscience is clear. However, if it becomes an obstacle to another believer then do not eat it because the greater good is in not undermining the faith of another. In all our lives we are to live for the sake of the gospel that bring glory to Jesus Christ and God the Father. In that way we can join with David in singing, Be exalted, O God, above the heavens; let your glory be over all the earth.'
In time of trouble, do we take refuge in the shadow of the wings of the Father?
Do we draw upon the strength God supplies to live our lives in ways that glorify him through Jesus Christ?
To God be the glory – (For traditional worship)
Michael W. Smith – King of Glory ft. CeCe Winans (For full throated modern worship)