Psalm 58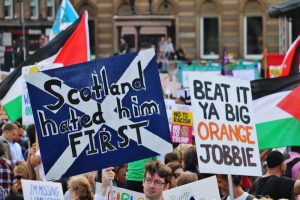 The above protest poster was held high by a woman in a crowd of thousands as a head of state visited a Scottish golf course. I added the exclamation marks as they are a signature feature of the head of state's own memes. Humour, cuts sharpest, when there is an element of shock and potential truth. But that is mild compared to Psalm 58 where all humour has fallen away leaving only truth that is brutally vitriolic. The words are aimed at those with wealth and power who wield both to their own advantage, simultaneously oppressing others. The objects of David's condemnation are rulers or as the ESV scathingly translates, 'you gods'. v1
Psalm 58 has been controversial, even made optional in the Anglican 1980 service book, because of the strength of its language, especially verses 6 to 9. The language is strong, these are words that no western politician would expect to get away with. David appeals to God to break the teeth of unjust rulers and then tear them out of their mouths. He wants God to make them disappear, compares them to slugs and a still born child. He wants swift and total judgement that sweeps them from power and even life.
However, a further statement that has caused offence, 'the righteous will be glad when they dip their feet in the blood of the wicked' v10 is not a celebration of personal revenge. The imprecatory psalms (of which this is one) leave judgement to God. But it does recognize there is a battle and the godly are involved in it and the righteous will be pleased with God's victory. v11
This psalm makes clear that when people are not treated with equity then that is wicked and to be opposed. 'Do you judge people with equity? No, in your heart you devise injustice, and your hands mete out violence on the earth.' vv1,2 We are called to be godly in what we do and say. A core part of our calling is to campaign for justice and oppose injustice. This can take place within a political party structure but there is an increasing trend for campaigning to be cause specific and there are many causes that Christians and churches as a whole could actively support. They do not all have to be specifically Christian causes such as the persecution of Christians across the world, they can and should also be issues that impact the well-being of all e.g. modern slavery, Black lives matter and the impact on the world's poorest of global warming.
Christian Aid is currently campaigning for debt relief for the poorest countries so that they have finances to fight the Coronavirus. Burkino Faso a country of 19 million has 11 ventilators, Sierra Leone has no intensive care beds in the hospitals. You can add your voice for debt relief here – https://www.christianaid.org.uk/campaigns/debt-jubilee-petition .
Tearfund is campaigning to clear up the plastics in the ocean which impacts on many poor people's livelihoods. Increasing the proportion of global aid spent on waste management to 3% would more than halve the quantities of plastics entering the oceans and improve poor communities' health. More than two billion people have no waste collection, meaning their rubbish ends up being burned or dumped in places like rivers and oceans. Tearfund are campaigning for global companies to take responsibility for the waste arising from their profits. You can join the campaign here – https://www.tearfund.org/about_you/action/
As a disciple of Jesus, do you recognise a responsibility to speak up and act for justice?
How can you help your church actively promote justice?
God of Justice (We Must Go) – Tim Hughes