1 Peter 4.7-11 and Mathew 25.14-30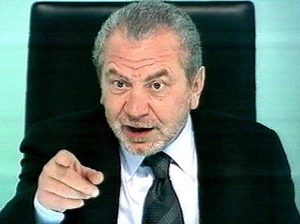 Jesus told a story that was similar to an episode of 'The Apprentice' and like Lord Alan Sugar the boss was a tough cookie. The boss handed out bags of gold (NIV) to three servants, 5 to one, 2 to another and 1 to a third. The two with the most money used it to good purpose and doubled the value. The third simply buried it frozen by responsibility and fearful of losing his master's wealth. However, the master had clearly intended the servant to use the money and so condemned him as a wicked lazy servant. He hadn't even invested it with a bank to earn interest. The gold given to the lazy servant was taken away and he was thrown out. An illusion to final spiritual condemnation.
Matthew places this parable in the section considering the period waiting for the return of Christ and judgement. Teaching elsewhere makes clear that salvation is only by grace and not dependent upon good works or a mixture of good works and grace. The actions of the lazy servant may well indicate that they were never truly a disciple. It could refer to those who professed faith such as some of the Jewish leaders but rejected Christ. Similarly, they may be those in the church who publicly profess faith but do not really believe and are in the church for other reasons. It is clear from this parable that God expects lives to change with the gift of salvation and for believers lives to bear a spiritual profit.
Peter picks up on this teaching by firstly saying it is time to leave behind the life that was before faith in Christ, 'For the time that is past suffices for doing what the Gentiles (non-believers) want to do'. v 1 Peter 4.3 Jesus is coming, it is time to think calmly, sensibly, deliberately and prayerfully. v 4,7 Jesus himself devoted himself to prayer and as his crucifixion was at hand he took himself to the garden of Gethsemane and prayed that God's will be accomplished on earth. It is time to use the gifts and abilities that God has given us in a way that brings glory (credit) to God. v 1 Peter 4.11 This raises the question, how do we set about doing that?
The starting point is a deep and sincere love for fellow Christians. Sincere love overcomes difficulties and frictions between each other that arise where people harm each other through wrong actions or words. 'Above all, keep loving one another earnestly; since love covers a multitude of sins'. 1 Peter 4.8 Brotherly love is gospel testimony to the salvation work of Jesus in our lives. On the other hand, absence of brotherly love brings discredit to Christ's name and works against the gospel.
If brotherly love is true it will be seen in our delight in spending time together and welcoming each other. Hospitality is a very important part of discipleship. This should be willingly and freely given. 'Show hospitality to one another without grumbling'. 1 Peter 4.9 Luke's gospel is known for the amount of times hospitality and food features. Hospitality takes many forms, it includes the welcome given at outreach events, meeting someone for a drink and a chat, providing for a travelling missionary, welcoming new people as well as finding ways to cement or maintain relationships. The Old Testament strongly encourages hospitality to aliens. I have been struck by the importance inviting people from other countries to one's home. Whether they are seeking asylum, have migrated for work reasons or here to study, it makes a huge difference to feel welcomed and loved when in an alien country. It opens up opportunities to really know people and to have important discussions. A series of brief superficial conversations is not a replacement for spending good quality time with people.
We have all received gifts from God and we are now required to steward those gifts for the sake of others rather than ourselves. 'As each has received a gift use it to serve one another, as good stewards of God's varied grace'. 1 Peter.4.10 Peter divides these gifts into two broad categories without prioritizing them. They are gifts of service and gifts of speech. The objective of both types of gift is the glory of God and to achieve that he has provided the strength. 1 Peter 4.11 Serving can be demanding of time and strength and there is a real danger of it becoming a burden. But God has provided us with a new heart 1 Peter 1.22,23 that allows us to serve willingly and by doing so display God's love for the world.
The gifts of speech are not for our own words or glory. They are to speak the 'oracles of God' 1 Peter 4.11 that is his words. God provides Christian teachers and leaders in many forms from one to one counsellors, through small group leaders to ministers and Principals of Bible Colleges. However, their role is to equip the church to enable all to speak in one way or another. The greatest thrill and miracle is one person through their personal testimony to lead another to Christ. Where one person has been greater gifted comes greater responsibility. The servant who was entrusted with 5 bags of gold multiplied it by 5 more.
Is there some obstacle to brotherly love in our life?
Is there anybody to whom you can show hospitality?
There is louder shout to come – Matt Redman