Psalm 71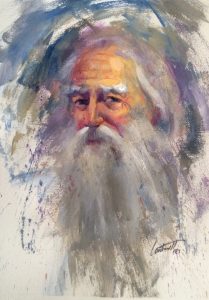 When as an older Christian do others see you as old? Is it when they stop asking you to be part of things and including you in decisions or think your thoughts are no longer relevant? Could it be that people no longer think you will be wrestling with temptation and the evil one or you cannot speak in a meaningful way about what God is doing today. Perhaps it is when people see bodily limitations and think the spirit is equally disempowered. One of the most hurtful ways to be perceived is as a caricature. There are several out there. There is, now you are retired an assumption that passion and drive have retired as well. Alternatively, there can be the idea that life is now a constant holiday and you will not have plans beyond the next cruise or trip. Conversely if in later life one is financially poor then one is also negatively dependent in all aspects of life including spiritual understanding. Then there is a belief that from now on all of life's adventures are lived vicariously through children and grandchildren. In truth some people in later life live up to caricatures like these. Psalm 71 shows a multifaceted spiritual life of a believer who is now, 'old and gray'. v18
The opening stanza contains familiar refrains of the Lord being the believer's refuge but in verse 3, 'Be my rock of refuge' the Hebrew word chosen includes a subtle change. Here it would be more literally, 'rock of habitations'. (BST, The message of Psalms 1-72, Michael Wilcock) The implication being that in times past he has sought God when in need of refuge, rescue and deliverance but now he has learnt to see the Lord as his home, a safe home. There is a greater stability about his relationship with the Lord as his saviour. That does not mean he is no longer under threat as he still prays, 'Deliver me, my God, from the hand of the wicked, from the grasp of those who are evil and cruel'. V4 Simply because one has become older it has not removed one from being as Peter puts it sojourners and exiles in a world that wages war against your soul' 1 Peter 2.11 I wonder how many times we consider that in the spiritual lives of the elderly the battle for holiness is as urgent as ever it was in younger years.
The psalmist here is able to bring a perspective of God's faithfulness over his life since his youth. v5 He understands that God's hand has been upon him from his conception, well before he was able to make any conscious act of faith. The longer one can trace God's goodness in one's life the more it is liable to inducepraise for him. In this way the psalmist is fulfilling a principal purpose for his and the lives of others to give praise to God and bring him glory. 'From birth I have relied on you; you brought me forth from my mother's womb. I will ever praise you'. V6 But more than this he is able to trace how his life has intersected with others and contributed to their encounter with God. This is a tremendous resource of experience to draw upon and when shared builds up the faith of the fellowship. Can you think back and name people who you know God has impacted upon their lives, in some small way, through you? If so then you can share at least in part with the psalmist when he says, 'I have become a sign to many' v7 and it ought to encourage one to continue to pray for occasions when it will be repeated.
A fear in older age is that one can become rejected. Not only by God but also by fellow Christians. At that point one becomes increasingly vulnerable. In the western world in particular there is a tendency for the elderly to be excluded and lonely. There are many reasons for that some of which are not intentional but never the less do happen. In the light of this a prayer written around 3000 years ago can be highly contemporary to a Christian incapable of getting to church. 'Do not cast me away when I am old; do not forsake me when my strength is gone.' v9 Feelings are as important and strong in old age as they have been throughout life.
The psalmist is not an elderly person who has given up. He always has hope v15 and he continues to see it as important to tell people about God's righteous deeds and his saving acts. v15 For the modern Christian with our understanding of Jesus' cross and resurrection and that we all will face God's judgement, how much more important is it for elderly Christian to speak of these things. The psalmist is not prepared to let his own inadequacies prevent him from speaking, 'Though I know not how to relate them all. I will come and proclaim your mighty acts, Sovereign Lord.' v16 He is not going to limit himself to speaking to people of his own age in some old people's forum he sees his role cross generationally. v18
As an older person the psalmist understands his eternal hope is fixed upon the Lord, 'you will restore my life again; from the depths of the earth you will bring me up.' v20 This is such an important message and needs to be communicated before it is time for the funeral. Our hope rests on Jesus' resurrection and the reason for that hope should be declared by the church, old and young, repeatedly backed by the reliable evidences. It is what the apostles declared and it continues to the be churches' calling.
Old age should be a time for praise, hopefully based on a lifetime of grateful celebration of the grace of God. vv 22-24
My Jesus My Saviour