John 13: 12-17
'When he had washed their feet and put on his outer garments and resumed his place, he said to them, "Do you understand what I have done to you? 13 You call me Teacher and Lord, and you are right, for so I am. 14 If I then, your Lord and Teacher, have washed your feet, you also ought to wash one another's feet. 15 For I have given you an example, that you also should do just as I have done to you. 16 Truly, truly, I say to you, a servant[a] is not greater than his master, nor is a messenger greater than the one who sent him. 17 If you know these things, blessed are you if you do them.'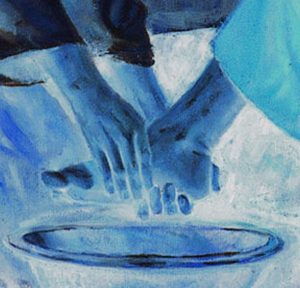 Jesus washing his disciple's feet was an act of profound importance. He did this within 24 hours of dying for them and all who believe in him. He could have done it at a host of occasions during his ministry, at any one of hundreds of times he ate with them. His act spoke of the deep and divine love he had for his disciples and continues to have for his disciples now. He did it with the intent of them learning a truth they still had failed to grasp. v15 What Jesus did was unique among founding religious leaders, there is no comparable story for Mohammed or Buddha. Fully aware of his place in the Trinity v3 he reduced himself to the most humble state.
My wife and I watched a minister at the end of one of a church's regular times when it cooked and served meals for the local hungry go and fetch a mop and bucket and set to cleaning the floor. There were plenty of other volunteers around doing a variety of jobs. He was happy to mop even though he was the church leader and teacher. To him it was a natural thing to serve. There is a story of John Stott, a famous leading bible teacher who when visiting some African bishops after the meeting started cleaning the floor to the astonishment of the bishops. He had internalised Jesus' words, 'you also should do as I have done to you.' v15
Jesus' teaching goes beyond using one's gifts to serve each other. I doubt whether the minister or John Stott had the gift of cleaning. If they were to stop at giving through their gifts both of them would have stopped once the sermon or talk were over leaving the cleaning to others. Jesus is teaching all of us to humbly seek to serve in whatever way we can. To do it willingly out of love for God and love for each other. Love for God and love for each other cannot be separated. If we do not love each other, love for God is an idea we assert but not a reality in our lives. 1 John 4.7-8 None of us are above the most humble acts of service for no one approaches the greatness of God.
Loving acts of service are part of the way the church is intended to demonstrate the gospel. Firstly, through serving each other. If we cannot serve each other, then acts of service to those outside the church have a hollow ring of insincerity. Loving service to those outside the church, often through everyday kindness, is a fundamental way to communicate God's love and character. We should pray that God will open up for us ways to show our love. Reaching out in the name of Jesus is much more about the everyday than it is the big event.
Paul urged every Christian to, 'Let love be without hypocrisy. Abhor what is evil; cling to what is good. Be devoted to one another in brotherly love; give preference to one another in honour; not lagging behind in diligence, fervent in spirit, serving the Lord; rejoicing in hope, persevering in tribulation, devoted to prayer, contributing to the needs of the saints, practicing hospitality.' Romans 12:9-13 In this way we bear the master's image.
Jesus words were not optional or advice, they were a clear instruction, 'you also should do just as I have done to you.'
Are there serving attitudes you can ask God to help you develop?
The Servant King – Graham Kendrick