1 Peter 3.1-7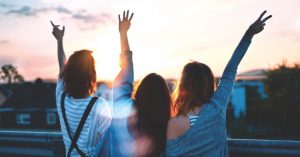 Eileen was brought up in a church attending family and continued with her faith into adulthood. She has good friends at church and loves going. When she met Bob he was happy about her going to church but wanted to do other things on a Sunday morning. Eileen hoped and prayed that Bob would change his mind after they married and want to come with her but it hasn't happened.
Jane also grew up in a very active Christian family. It meant a lot to her as a child but while she was at university she stopped going to church and mixed with a different group of people. Jane never actually lost her faith but she had lots of questions. After she met and fell in love with Harry her life was filled with all sorts of other things. It was only after they had married and started a family that the feelings of wanting to revive her faith and teach the children came back to her. Harry was a bit grumpy about her going to church with the children every Sunday so that was hard.
Nieve had never been to church, she didn't know much about Christianity and was happily married. Then a good friend told her that she had attended an Alpha course and it was great. Nieve was amazed that her friend should do that but could see she was really excited and very happy. So, when her friend asked Nieve if she would go to Alpha with her she rather nervously said yes. To her surprise Nieve herself found that she wanted to become a Christian but she was worried about how this would change her relationship with Kieran her husband.
All these examples are fictional but they represent common situations in many churches in Britain. Whilst biblical teaching is that as a Christian one should marry a Christian if you want to marry (2 Corinthians 6.14, 1 Corinthians 7.39) that doesn't address the actual situation that exists for many. Peter when writing this letter recognized that this was the case in the churches in Asia Minor. Across the world cultural attitudes to marriage vary considerably as they have done throughout history. The reasons for marriage are also varied and the control over whom one marries, especially for women, has not always reflected equal rights and standing. This was clearly the case in the culture of the time.
Peter in this passage has not changed his underlying themes of living for the sake of the gospel and humble obedience to Christ through following his example for his glory. In whatever situation we find ourselves we are to be distinctively his people and that includes within marriage. Marriage itself is a reflection of Christ's own relationship with the church. Authority and submission are seen in the relationships within the Trinity of God. 'There is only one God, and he exists in three Persons. Each Person is equally God, yet the Son submits to the Father (1 Corinthians 11.3), and the Spirit submits to the Father and the Son (John 15.26).' (1 Peter for you. Juan R. Sanchez) We can see then that in Christ, honour, equality and submission are not in conflict. The man is equally required to, 'live in an understanding way, showing honour to the woman' v7 and as Paul instructs the Ephesian church, 'Husbands, love your wives, as Christ loved the church and gave himself up for her. v Eph 5.25
Peter is making clear to Christians that it is the quality of their relationships and love that is the most important thing. External beauty changes over time but God is causing an internal beauty that is even more attractive to grow in the Christian. 'Let your adorning be the hidden person of the heart with the imperishable beauty of a gentle and quiet spirit, which in God's sight is very precious. v4 It is in the quality of love and Christ like character that we seek to win our spouse for Christ or grow together in the Lord. At the same time the church should not simply leave someone alone within a marriage but create a supportive, loving prayerful culture that understands the complexity of marriage.
Is there a married person in your church who you can be a listening friend to and pray for?
How is the church supporting married couples especially during this intensive period of lock down?
When God made you