Mark 9:1-13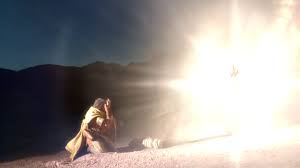 If you had a vision of Jesus as he is in glory what impact would it have on you? This is not my experience but there are people for whom it is true. I am not speaking here of psychotic episodes but people who are very obviously sane and rational in every sense. Paul's vision of Jesus on the Damascus road was one where all he could see was the glory, hear his voice, but did not see the figure of Jesus. The impact on him was to transform him from an enemy of Jesus into a disciple who is an exemplar of obedience to Jesus' words uttered just prior to the transfiguration passage. 'If anyone who would come after me, let him deny himself and take up the cross and follow me. For whoever would save his life will lose it, but whoever loses is life for my sake and the gospel's will save it. Mark 8.34-35
A vision of the risen Christ would, one would imagine, have a life-long impact. When Peter saw Jesus transfigured we know that the experience motivated him for his entire life to stir people up to be obedient to Christ and the word of God. 2 Peter 1.13 At the time of his witnessing Jesus' transfiguration Peter along with John and James were confused, it was only later as they reflected on Jesus' words, the Old Testament prophecies and law as well as Jesus' death and resurrection that they were fully able grasp the meaning of the events they were in the middle of.
Peter heard the voice of God again confirming the words uttered at Jesus' baptism but this time with the added command to listen to him. Near the end of his life Peter recalls Jesus' transfiguration, how God affirms Jesus as his beloved Son 2 Peter 1.18 and the power of God's word. He states, 'no prophecy of Scripture comes from someone's interpretation. For no prophesy was ever produced by the will of man, but men spoke from God as they were carried along by the Holy Spirit.' 2 Peter 1.20-21 Peter at the transfiguration had seen Moses and Elijah speaking with Jesus, representing both the law and the prophets and this must have had a profound impact on him trusting in the scriptures.
For Peter, as well having seen the power and glory of Jesus, he understood that faith in Jesus granted divine power to his disciples to live godly lives. 'His divine power had granted to us all things that pertain to life and godliness, through the knowledge of him who called us to his own glory and excellence.' 2 Peter 1.3 Peter then urged his fellow Christians to live out this divine power through a life of vibrant holiness. 'For this reason, make every effort to supplement your faith with virtue, and virtue with knowledge, and knowledge with self control, and self control with steadfastness, and steadfastness with godliness, and godliness with brotherly affection, and brotherly affection with love.' 2 Peter 1.5-7
Following the celebration of Jesus' resurrection are we more motivated to have a better vision of Jesus through the word of God that Peter trusted as Spirit inspired. If so read again or for the first time Isaiah 53 and apply each sentence to Jesus at Easter.
Will a clearer vision of Jesus inspire you to:
Live with vibrant holiness;
Stir up a desire to make him known;
Trust in the word of God as a 'lamp shining in a dark place' for your life.
Lord I lift your name on high – Maranatha praises