John 2.1-11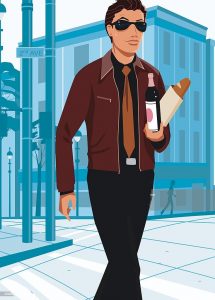 How good are you at taking the right gift when you have been invited to a meal or party? Are you a grab a quick bottle of rioja red wine and a bunch of artificially bright flowers from Morrisons type of person or do you ponder deeply and try to find a gift that fits the hosts just perfectly? I'll leave you to guess which side of the divide I fall on but I have to say Morrisons is very reasonable when it comes to wine and flowers, or so my Mother said. Weddings are a particular challenge, especially if one is one of those marginal guests and somehow all the presents on the John Lewis website that come under the 'I can just about afford that' category went three months ago. It's funny how what is a suitable gift has changed over time. I can remember when duvets were a big thing, I don't mean literally as in Super King Size, I mean that most people still fought over blankets and sheets and duvets were strangely European and exotic. Towels always seem a safe bet, but the poor 'newly weds' probably never get to actually choose a towel for the first thirty years of marriage and they never match the bathroom décor. Truly a first world disaster. Cheeseboards were the present of choice at my daughter's wedding.
I wondered if there was any helpful biblical advice for this type of eventuality. Luke records these words of Jesus,'give, and it will be given to you. Good measure, pressed down, shaken together, running over, will be put into your lap. For with the measure you use it will be measured back to you.' Luke 6.38 Brilliant advice, if expensive, but then I realized that this giving was even more expensive than I realized at first sight. Give did not have a capital letter in the bible, it was preceded in the same sentence with: 'Judge not, and you will not be judged; condemn not, and you will not be condemned; forgive, and you will be forgiven;' giving according to Jesus is much more costly than might be thought if scripture is taken out of context.
The thing about Jesus is he lived what he taught and as he was God incarnate both what he said and did revealed the purposes and nature of God. All this brings me back to the wedding in Cana. Jesus turns up with his Mum and his newly found disciples. The party had probably been in full swing for a day or two, weddings were commonly a week long affair. They hadn't been there long when an embarrassing situation developed, the wine had run out and there was no Morrisons round the corner. Mary turns to Jesus, and this is where Mary is much more in the know than anyone else, after all she had been told all about Jesus even before conception, so she makes one of those observations that are really a question and an instruction. 'They have no more wine." v3 Jesus doesn't seem to be too happy about being put on the spot. I can just imagine the look he got from Mary when he came out with, 'My hour has not yet come.' v4 She ignores him and speaks directly to the servants, 'Do whatever he tells you.' v5
Jesus does what Jesus is, over abundantly generous, kind and loving he turns water out of vessels for ceremonial washing into the finest of wines. Not just a couple of cases but gallons and gallons and gallons. Of course, this is packed with symbolism, the washing ceremonies and sin offerings of Judaic religion in those days were going to be replaced by the cleansing and forgiveness that never needs repeating. Wine in the Old Testament was a repeated symbol of God's abundant blessing and the removal of reproach. 'The Lord had pity on his people. The Lord answered and said to his people, "Behold, I am sending to you grain, wine and oil, and you will be satisfied; and I will no more make you a reproach amongst the nations".' Joel 3.18,19 This was a forerunner of the new covenant wine which Christians celebrate every time they remember death of Jesus with bread and wine.
What a joyous thing it is that the first sign of the glory of Jesus is a super abundant gift, miraculously achieved because he is also the creator Word of God.
Is your vision of Jesus as the super abundant generous bringer of joy?
Has the Spirit of God worked in your heart to make you a giver of gifts, pressed down and shaken, a forgiver as well as forgiven?
Joy – Rend Collective (Wait for it)
https://youtube.com/watch?v=VDiETOLBvxA%3Flist%3DPLcj8l6w_IlvMpX_TzgcBL_2YEDFX0tRvO