Psalm 61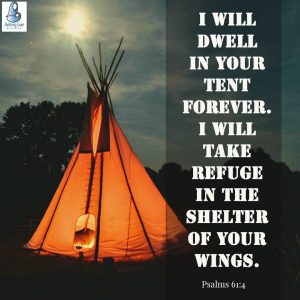 David opens the psalm a long way from Jerusalem and the tent of meeting. v4 It felt like being at the end of the earth although he was probably just over Israel's border. He was in the need of God's presence to be his place of refuge. He was experiencing a time of spiritual weakness as well as probably a threat to his life. Although the tent of meeting was the holy place where the ark of the covenant was placed the God of Israel was not contained by geography. Psalm 139 makes this clear, 'Where shall I go from your Spirit? Or where shall I flee from your presence? If I ascend to heaven you are there! If I make my bed in Sheol, you are there. Psalm 139.7,8 David felt safe in the presence of God in a similar way that being in the presence of someone who you love provides a sense of safety. A sense of safety is an important aspect of love, it is why we hold someone who is frightened and why we hold the hand of a loved one in their dying moments.
The central verses of the psalm, either side of 'Selah' carry the heart of this psalm's message. It is the importance of spending time in the presence of God. 'Let me dwell in your tent forever!' v4 says David. He wants to be close to God not only for refuge but also because he shares the inheritance of all those who fear God. Because he loves God he loves being with God. Absence isn't making his heart grow fonder, the continuing presence of God grows his love. He enjoys God and enjoys obeying God. The Old Testament and especially the psalms are full of verses that thrill at being in the presence of God. 'How lovely is your dwelling place, O Lord of hosts! My soul longs, yes, faints for the courts of the Lord; my heart and flesh sing for joy to the living God'. Psalm 84.1,2
In Jesus we have a perfected model of desiring to be in the presence of God. Jesus showed and taught his disciples the importance of spending time quietly in God's presence. When the twelve disciples excitedly returned to Jesus after he had sent them out to preach the Kingdom of God, he said to them, 'Come away with me by yourselves to a quiet place and get some rest'. Mark 6.31
Spending time in God's presence enables the disciple to resist sin as Jesus showed in the wilderness after his baptism. Persistent sin frequently damages Christians' ongoing relationship with God and limits the effectiveness of their lives. David links time spent in God's presence with the keeping of his vows. 'For you, O God, have heard my vows; you have given me the heritage of those who fear your name.' v5 Again in verse 8, 'So will I sing praises to your name, as I perform my vows day after day.'
Time in God's presence also builds hope. David expresses such hope for himself but at the same time moves into prophetic verse concerning the coming King, the Messiah, as he talks about being enthroned forever before God. vv 6,7 Hope is a vital part of the Christian life, it is rooted in the promises of God and the death and resurrection of Jesus. Hope produces resilience. When Peter was writing to the churches at the time of Nero and rapidly escalating persecution he wanted them to grasp the hope they had in Christ. He wrote, 'Praise be to the God and Father of our Lord Jesus Christ! In his great mercy he has given us a new birth into a living hope through the resurrection of Jesus Christ from the dead, and into an inheritance that can never perish, spoil or fade.' 1 Peter 1.3,4 Later he called them to come into Jesus' presence to be built up into the people of God that God desires. 'As you come to him, the living Stone – rejected by humans but chosen by God and precious to him – you also, like living stones, are built into a spiritual house to be a holy priesthood, offering spiritual sacrifices acceptable to God through Jesus Christ.' 1 Peter 2.4,5
Have we regularly built into our life time to, 'come away and be with Him'?
Do we allow ourselves time to enjoy being in the presence of God and celebrating the hope that is within us?
Living hope – Phil Wickham