Luke 1.28-33,35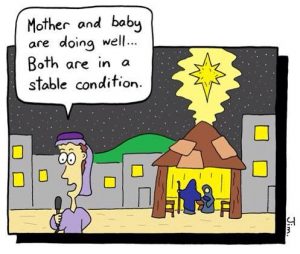 The angel went to her and said, 'Greetings, you who are highly favoured! The Lord is with you.' Mary was greatly troubled at his words and wondered what kind of greeting this might be. 30 But the angel said to her, 'Do not be afraid, Mary, you have found favour with God. You will conceive and give birth to a son, and you are to call him Jesus. He will be great and will be called the Son of the Most High. The Lord God will give him the throne of his father David, and he will reign over Jacob's descendants for ever; his kingdom will never end.' … The angel answered, 'The Holy Spirit will come on you, and the power of the Most High will overshadow you. So the holy one to be born will be called[a] the Son of God.
There are some conversations when one carefully selects the time and the words used. Recently I arrived home and after greeting my wife, she replied, "I have had an absolute disaster of an afternoon." That set me up to be understanding and compassionate, whilst inwardly bracing myself for something very expensive. "I made a curry and it's too hot to eat," she announced. I un-tensed my stomach muscles and searched for an appropriate answer. Fortunately, she had already prepared one for me. "I looked it up and google said, add a potato and lots of yoghurt." That seemed to overcome the awkward moment and life could continue as normal.
I just wonder how the conversation between Mary and Joseph went after Gabriel had dropped in to see her. I imagine it started with Joseph saying something like, "Just stop there a moment, what did you say his name was and what did you say he was? Now take a moment Mary and start again, very slowly." One thing was certain, for Mary and Joseph, life never did return to normal.
The days before Christmas day are good days to simply reflect on Gabriel's promises fulfilled and rejoice. It is a bit like mindfulness we may know we should take a minute to simply concentrate on the moment but if we never do then we will never feel the benefit. So, do take a few minutes, stop and reflect on promises kept.
God was with Mary and she was obedient and faithful. She did conceive and as a result the world has been given the gift of God with us. He is the complete revelation of God and because of him we can understand who God is. The light of God shines in the world's darkness and the darkness has not overcome it. John 1.5
He was given a name that is now the name above every name. 'Therefore God exalted him to the highest place and gave him the name that is above every name, that at the name of Jesus every knee should bow, in heaven and on earth and under the earth, and every tongue acknowledge that Jesus Christ is Lord, to the glory of God the Father.' Philippians 2.9-11
Mary's child was the Son of the Most High and because of that he was able to create the chance for us to have new life through him. 'But these are written that you may believe[a] that Jesus is the Messiah, the Son of God, and that by believing you may have life in his name.' John 20.31 'For in him the whole fullness of deity dwells bodily.' Colossians 2.9
Mary's son established a kingdom like no earthly kingdom that will last for ever. 'For the kingdom of God is not a matter of eating and drinking but of righteousness and peace and joy in the Holy Spirit.' romans 14.17 'The kingdom of the world has become the kingdom of our Lord and of his Christ, and he shall reign forever and ever.' revelation 11.15
At the name of Jesus