John 5.1-14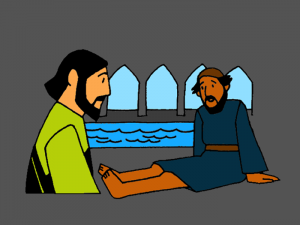 The pool was crowded that day but not with swimmers or children larking about. Instead it was packed with resigned despairing adults waiting for a false hope. The pool itself was impressive, stone built with five colonnades. Steps surrounded the pool leading into the water. Jesus was walking there, picking his way between sat and lying bodies. He had returned to Jerusalem for a festival and made his way to the pool called Bethsaida near the city Sheep Gate. As he looked around he could see a multitude of suffering; the blind, those who could not walk disfigured by illness or accident, a few paralyzed and entirely dependent on others to carry them each day to the pool, all waiting for the water in the pool to be disturbed. This was not a pool for swimming or play but the story went if the water rippled then the first person into the water would be healed. Each time it happened there was a mad scramble as the disabled on their own or aided by friends sought to be the first. This architecturally beautiful pool had become a pool of human tragedy. While people waited there were those begging as their sole source of income.
In the middle of this scene Jesus became aware of one particular man and his story. He had been an invalid for thirty-eight years, longer than many lived in those days. We do not know his name and in a sense his anonymity adds poignancy to the account. Jesus stopped, looked at him and when he spoke he said, 'Do you want to get well?' The answer might seem obvious but the man evidently knew nothing of Jesus. Instead of affirming his desire for healing his reply was a resigned complaint. There was not an element of hope within it. "Sir," the invalid replied. "I have no one to help me into the pool when the water is stirred. While I am trying to get in, someone else goes down ahead of me." Jesus then told him to, "Get up! Pick up your mat and walk." Surprised he undoubtedly was but he did as he was told.
That question, 'Do you want to get well?' has a much wider significance and application than for this one man and event. There were potential costs and implications for his identity arising from being healed after thirty-eight years. How were family and friends going to respond? Was he going to accused of being a fraud all these years? How was he going to make money and live now? What was going to happen to his state of mind? His life was about to change radically, had he become content with his disability and accepted it as his lot in life with the hope of healing just being an excuse to beg?
We have no idea about what eventually happened to this anonymous man, it would appear that despite being the recipient of the third sign of Jesus being the Messiah in John's gospel, he did not become a follower of Jesus.
The question, do you want to change, is a bottom line question when it comes to discipleship and being a Christian. It may be that you know you need to change but actually you like what you know is wrong or undesirable and you are too attached to it to change. The cost may be too much and you are unwilling to pay.
Jesus repeatedly made it very clear there is a real cost to following him. Discipleship is not a call to easy street. Amongst other things it costs changes in behaviour and for that to happen you need to want it. On one occasion Jesus explained to his disciples that the cost they bear is one he shares with them.
"If the world hates you, know that it has hated me before it hated you. If you were of the world, the world would love you as its own; but because you are not of the world, but I chose you out of the world, therefore the world hates you. Remember the word that I said to you: 'A servant is not greater than his master.' If they persecuted me, they will also persecute you. If they kept my word, they will also keep yours. But all these things they will do to you on account of my name, because they do not know him who sent me. If I had not come and spoken to them, they would not have been guilty of sin, but now they have no excuse for their sin." John 15.18-25
What do want in life?
Has Jesus challenged you and are you prepared for the consequences?
Whatever your answer this is God the Father's promise – 'For God so loved the world that he gave his one and only Son, that whoever believes in him shall not perish but have eternal life.' John 3.16
Look Up Child – Lauren Diagle