John 14.18-24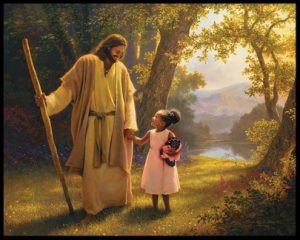 Lee Strobel in "The Case for Grace" tells the story of a Korean girl who was abandoned by her family as she was the child of a US soldier during the Korean war. Having a child outside of marriage from an American father would have been a cause of disgrace for the mother and the family within the culture at that time. From about the age of three she scavenged a feral existence until about the age of 11 she was discovered by an American missionary who thought initially she was dead. The missionary worked in an orphanage who took her in and brought her back to health. A little while later another missionary couple came to the orphanage looking to adopt a baby but in a remarkable way God intervened and instead of selecting what had been their heart's desire, a new born baby, they fell in love with this feral child and adopted her. The girl had no memory of parents, family life or love. She presumed she had been taken as a servant and could not understand why she was being given a room, clothes, food and sent to school and not forced to work all day at the home. Then at school she spoke of this to another child who said to her. Don't you understand, you are their child. At that moment she was overwhelmed with the realization that she was loved and her new parents' child. She rushed out of school, ran all the way home, threw herself at her mother and cried repeatedly, "You love me and I am your child." You can imagine the emotional impact on the parents as well as the child.
Hours before his death, although the disciples as yet were still unaware of the imminence of coming events, Jesus seeks to comfort the disciples regarding their impending grief. He says, 'I will not leave you as orphans.' v18 When Jesus dies they may feel cut off, alone, disorientated, afraid, as if the last three years were a waste of time, defeated; but Jesus is saying to them it is not going to be like that. The world may think he is dead and gone but they will be reunited with him. v19 The bond between the Father, Jesus and his disciples is strong, entwined and based on love, the love of the Father. When Jesus reveals himself to them again they will understand that they also will overcome death because of him. 'Because I live, you also will live. In that day you will know that I am in the Father, and you in me, and I in you.' vv19b,20
Obedience to Jesus' commands is not the slavish obedience to an overbearing master. A way of earning love. That was the thinking of the little girl who had not yet realized she was her parents' child and belonged as part of the family. Obedience to Jesus' commands is a love response. Loving Jesus is accompanied by the Father's love back to the disciple. v21 When Jesus says, 'I will … manifest myself to him.' V21b He is referring to meeting with his disciples after his resurrection but he is also probably meaning his revelation of himself through the giving the Holy Spirit at Pentecost and beyond to the present day. This experience of Christ in disciples' lives is limited to his followers and is not experienced by the wider world until they become disciples.
The evidence of becoming a disciple and an adopted child of God is in changed and changing lives. These changes will not always be acceptable to the wider world as they do not conform to aspects of the world's culture. 'Whoever does not love me does not keep my words.' v24 This will mean that life for the disciple will not always be comfortable, just as Jesus experienced opposition as well as appreciation. However, the disciple's calling is to live as Jesus lived, loving the Father, listening to the Father and in close relationship with the Father. 'If anyone loves me, he will keep my word, and my Father will love him, and we will come to him and make our home with him.' V23
What is our choice, to live as the world lives or to live as an adopted child of God the Father?
If we know we can be a child of God, why wouldn't we share that knowledge?
I am a child of God – Bethel music