Psalm 133 Behold, how good and pleasant it is when brothers dwell in unity.
2 It is like the precious oil on the head, running down on the beard, on the beard of Aaron, running down on the collar of his robes!
3 It is like the dew of Hermon, which falls on the mountains of Zion! For there the Lord has commanded the blessing, life for evermore.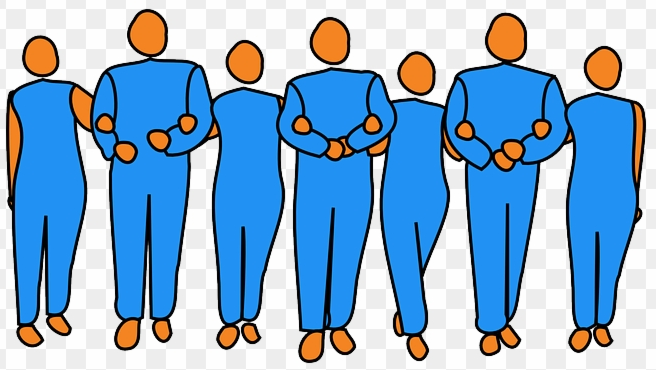 Religion someone said, is what a man does with his solitariness. But not in the bible. In the biblical vision, God's plan is to call out a people from among all nations to be his own. Covenant creates community. As in this psalm, the worship of "festival transformed the pilgrims into a family that for a holy time ate and dwelt together." (James and May) This deeply satisfying experience of unity v1 is God's commanded blessing. v3b Two images enrich the song.
The first is that of the soothing, healing balm of oil poured over the head v2 which typifies just how 'good and pleasant' real unity can be. The reference to Aaron v2b connects the image to the anointing with oil of the priests in Israel. (Exodus 29:21, 30:25) Unity is not self-satisfying but serves the mission of God's royal priesthood in the world. Division surely mars that witness.
The second picture is that of dew. v3 The heavy dew of the highest mountain (Hermon) will accrue to the lowliest hill (Zion) to symbolise the God-given refreshment and renewal of God's people. Grace flows from the summit to the lowlands. Oil flows from the head to the whole body. So the unity of God's people in not a natural (horizontal) "clubability". True unity is the anointing of God's Spirit "coming down" as God's gift.
Brothers in the Bible – like disciples don't have a track record for getting on together (think Cain and Abel, Joseph and the eleven, Jacob and Esau …). Dare we, on this side of Easter, still believe that the magnetism of the cross makes us one, and that his Spirit is "the sweet agreement at the meeting of our lives"?
The psalmist's song happily anticipates Paul's plea for the unity of the Spirit who alone oils creaky relationships among the followers of Christ – a Body in which no part can dispense with another without disfiguring Christ. The eucharistic family that eats one loaf and drinks from one cup binds itself to stay together for priestly ministry in brotherly-sisterly love.
(CWR Cover to Cover June 2011)
How much have you experienced the anointing of the Spirit creating the unity of pilgrim disciples?
Does the eucharistic family sharing one load and drink bind you in brotherly and sisterly love?
Bind us together Lord